This Balsamic Vinaigrette Recipe will liven up your salad in 5 minutes. It's the perfect balance of tangy and sweet!
If you like homemade salad dressings try my raspberry vinaigrette and spinach salad dressing.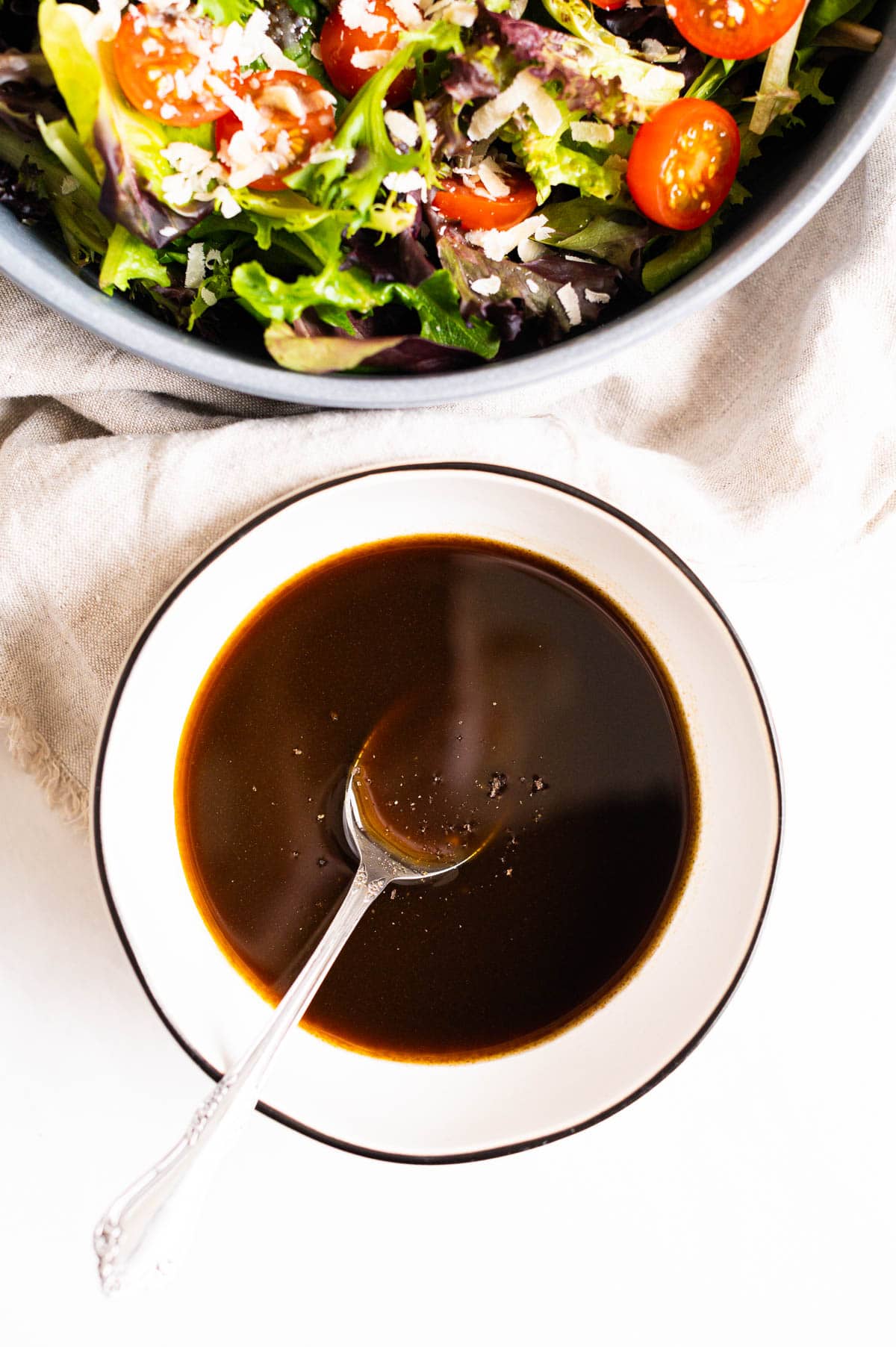 What Is Balsamic Vinaigrette?
Vinaigrette is a mixture of oil and a mild acid, usually vinegar or lemon juice. My sugar-free, homemade balsamic vinaigrette recipe is a healthy salad dressing that combines balsamic vinegar, olive oil, Dijon mustard, and seasonings.
I make balsamic dressing weekly! It's my go-to for this strawberry spinach salad recipe. I even make balsamic marinade for grilled vegetables, I use it in roasted mini peppers, or as an easy chicken marinade.
Ingredients for Balsamic Vinaigrette Recipe
This easy balsamic vinaigrette recipe calls for 6 pantry staples. You can make it ahead of time or on the spot.
Quality olive oil: Dark green color, cold pressed olive oil is the best one to use in balsamic salad dressing to add the most flavor. My favorite brand right now is Kirkland olive oil.
Balsamic vinegar: Again, high quality is ideal and an aged balsamic vinegar will be sweeter and more rich tasting.
Dijon mustard: The creamy, tangy ingredient that adds a bit of a kick to balsamic vinegar dressing. It also emulsifies the oil and vinegar.
Garlic: For a sharp, savory flavor.
Salt and pepper: To taste.
How to Make Balsamic Vinaigrette
Forget store bought salad dressing! Here is a quick photo overview how to make balsamic vinaigrette dressing at home, so easy! Full recipe card is located below.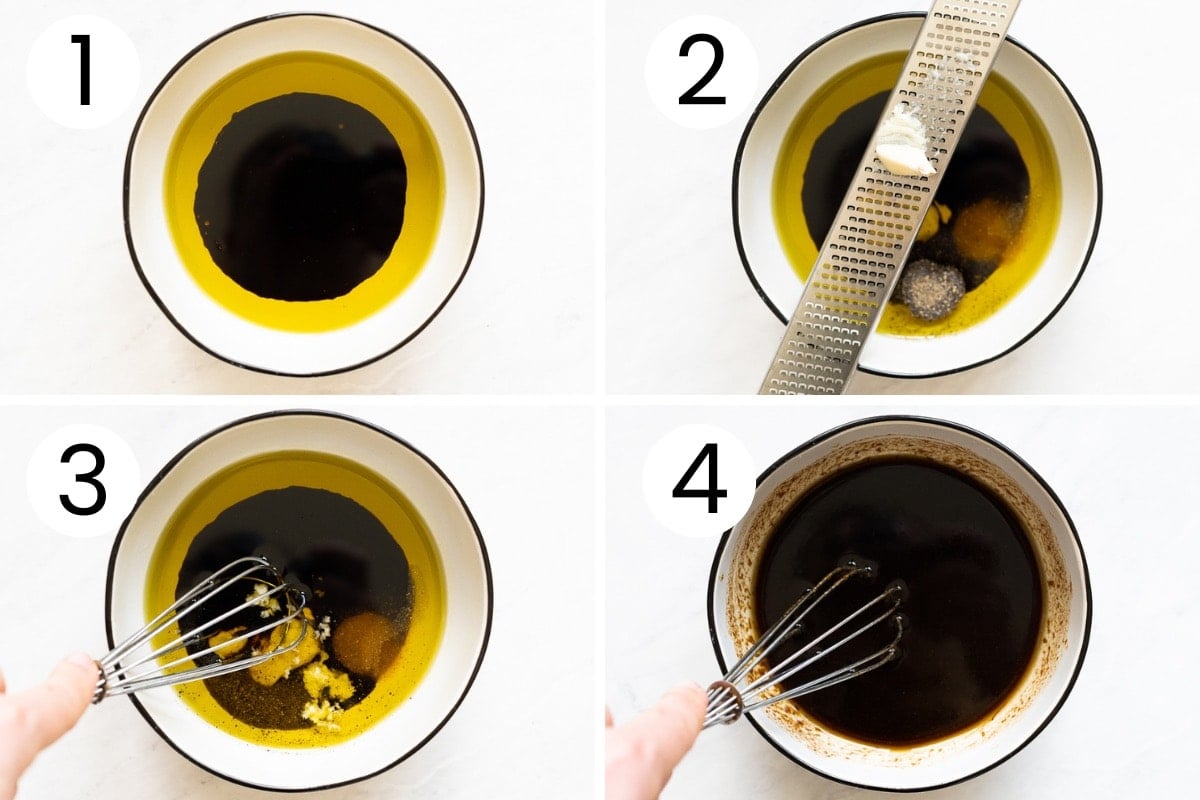 Combine ingredients: Add all olive oil, balsamic vinegar, grated garlic, Dijon mustard, salt and pepper to a small bowl.
Whisk: Until smooth. You can also use a Mason jar, seal lid tightly and shake until blended.
Taste and drizzle: Adjust seasoning to taste and drizzle over your salad. This balsamic dressing recipe is also great for quinoa salad or pasta salad.
What Is the Best Balsamic Vinegar to Use?
When deciding which balsamic vinegar to use for balsamic vinaigrette recipe there is no wrong choice. I like Modena, it's a traditional, true vinegar with no artificial flavors, thickeners, or colorants, and aged for many years. But it is more expensive.
Some budget-friendly versions are Colavita balsamic vinegar, Kirkland balsamic vinegar ,or my latest favorite is this fig balsamic vinegar.
Tips for Best Results
Here are some helpful tips on how to make the best vinaigrette.
Use quality olive oil: I highly recommend one that has dark green color and cold pressed to add the most flavor to the vinaigrette.
Use fresh garlic: To enhance the savory, zesty flavor.
If dressing thickens: This seems to happen while mixing because of cold and creamy Dijon mustard. Place dressing in the microwave or hot bowl of water to warm up. You can also blend it.
If balsamic vinaigrette solidifies in the fridge: Warm up jar with vinaigrette on a counter for 20 minutes or in a bowl with hot water.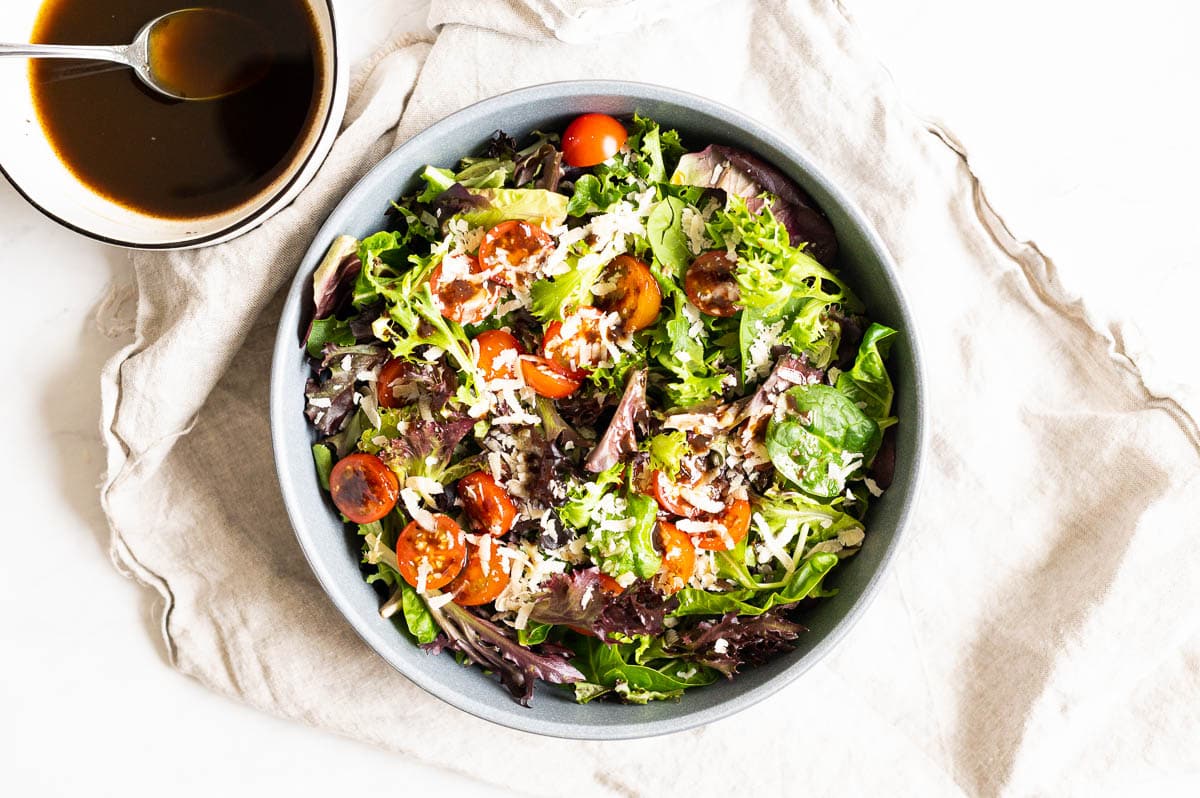 How to Use Balsamic Dressing
This rich and flavorful balsamic vinaigrette recipe is the perfect topping for just about anything, no joke! Here are some of our favorites.
Marinade: Marinate your favorite meat in it for as little as an hour, or pour over cooked meats like fish or chicken.
Anything Caprese: Balsamic vinaigrette pairs wonderfully with tomatoes and mozzarella cheese like this tomato mozzarella salad.
Something sweet: Drizzle on cold or grilled fruit for a delicious treat. Berries, apples, and peaches are my favorite.
How to Store Balsamic Vinaigrette
Store: Store balsamic dressing in a sealable jar for up to 2 weeks in the refrigerator. I tend to double or triple the recipe so I always have some on hand!
Freeze: I do not recommend freezing oil-based vinaigrette dressings. The oil and vinegar separates as it thaws and because it is super easy to make with every day ingredients, I prefer it fresh.
FAQs
Should I whisk or blend balsamic vinaigrette?
Both methods work great. Using a blender will yield a more creamy consistency.
What oil can I use to make balsamic dressing?
I recommend a high quality extra virgin olive oil for salad dressings because of their strong flavor. However, you can use any light color mild oil like avocado oil and grapeseed oil.
How long does it last?
When stored in an airtight container and kept in the fridge, vinaigrette dressing will last up to 2 weeks. Shake or stir before each use.
Can I use balsamic vinaigrette instead of balsamic vinegar?
Yes. In some recipes you can replace equal parts interchangeably. Balsamic vinegar is pure vinegar with a robust flavor where vinaigrette is a mixture of oil, vinegar, and other spices resulting in a more sweet, tangy taste.
Is balsamic vinaigrette healthy?
Balsamic vinaigrette dressing is healthier than any creamy salad dressings because the two main ingredients, olive oil and vinegar, have great health benefits. And homemade vinaigrettes are healthier than store bought because they do not have added preservatives, artificial flavoring, and sugar.
What is the difference between vinaigrette and dressing?
Vinaigrette is an oil and vinegar base dressing where dressing can be anything you drizzle on your salad.
More Salad Dressing Recipes to Try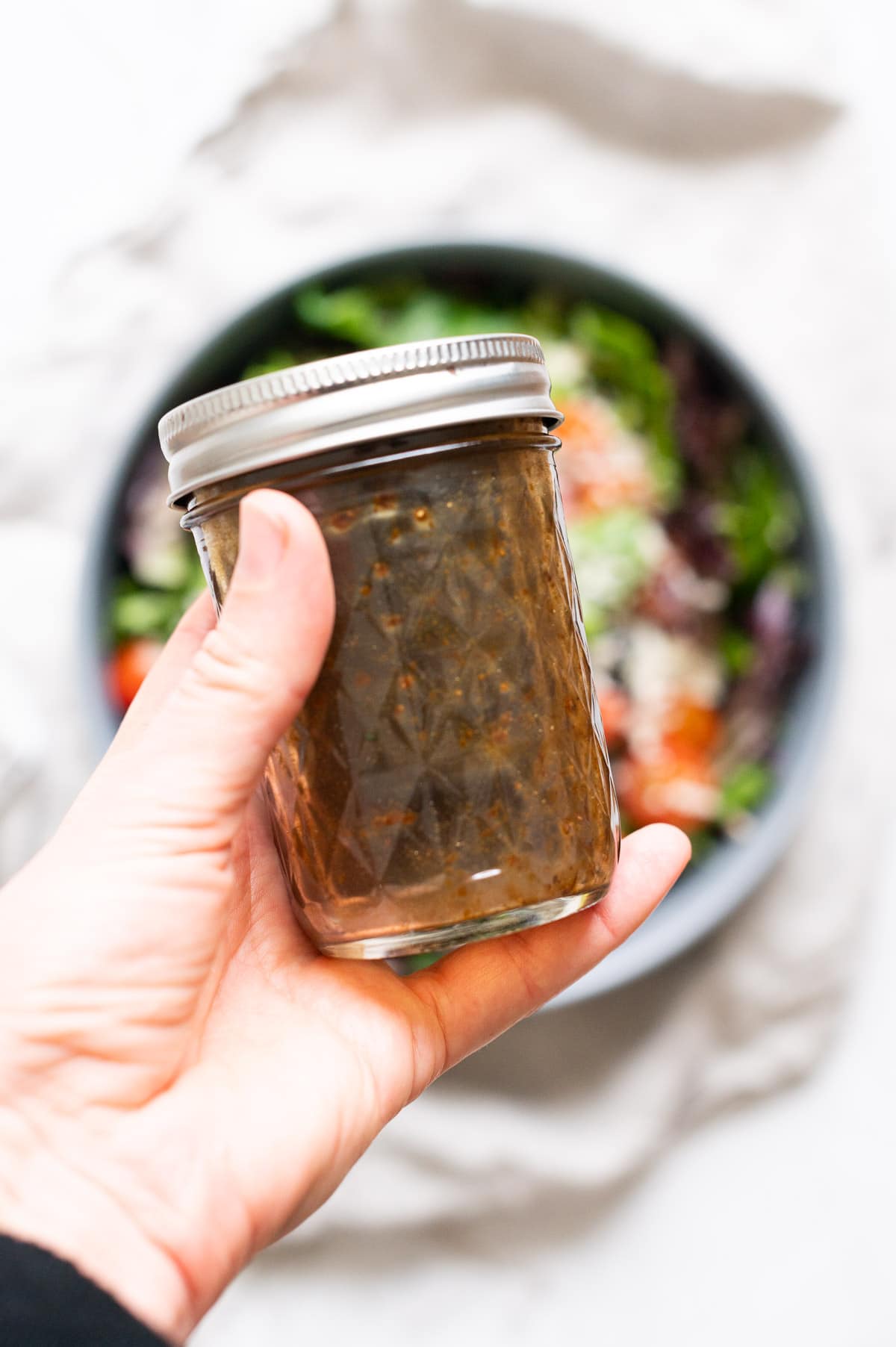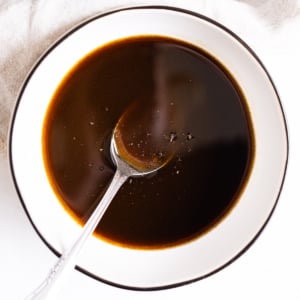 Balsamic Vinaigrette Recipe
This Balsamic Vinaigrette Recipe will liven up your salad in 5 minutes. It's the perfect balance of tangy and sweet!
Instructions
In a small bowl, add olive oil, balsamic vinegar, Dijon mustard, grated garlic, salt and pepper.

Whisk until smooth or shake in a Mason jar. Adjust any seasonings to taste, if you wish.

Drizzle over any favorite leafy green salad, quinoa salad or pasta salad.
Notes
Store: Refrigerate in a glass mason jar or airtight container for up to 2 weeks.
Nutrition
Serving:
2
tablespoons
|
Calories:
176
kcal
|
Carbohydrates:
2
g
|
Protein:
0.3
g
|
Fat:
18
g
|
Saturated Fat:
3
g
|
Sodium:
446
mg
|
Fiber:
0.3
g
|
Sugar:
2
g