This 15 minute Thai Chicken Salad recipe is bright and full of flavor with a creamy dressing and lots of fresh, crunchy veggies. It is a perfect year-round healthy salad!
We also love this healthy chicken salad and grilled chicken salad.
I love Thai cuisine and its fresh, fun flavor combinations. This Thai chicken salad is a perfect example of it with the combination of sweet, savory, tangy, and spicy.
With a combination of tender chicken, crunchy fresh red cabbage and bell peppers, a savory bite of peanuts, and creamy dressing with a dash of spice, this healthy salad is truly satisfying!
Unlike other Thai chicken salad recipes, I've used a creamy yogurt-based salad dressing rather than a peanut butter dressing with soy sauce. This provides richness while remaining light and healthy.
Ingredients for Thai Chicken Salad
To make Thai chicken salad, all you need is a combination of simple ingredients for the salad and its dressing.
For the Salad:
Chicken breast: Use leftover cooked crock pot shredded chicken or Instant Pot shredded chicken. Read below for more chicken recommendations and check the FAQs for chicken substitutes.
Red cabbage: I love the color that red cabbage provides. However, you can use green cabbage or savoy cabbage instead. Shred the cabbage using a mandoline or knife.
Bell pepper: Use thinly sliced sweet red bell pepper, orange bell pepper or yellow bell pepper. If you love a bit bitter taste of green bell pepper, use that.
Cilantro: If you're not a fan, you could experiment with using fresh mint, fresh parsley or fresh basil instead.
Green onion: To add zing.
Peanuts: I use roasted unsalted peanuts for this Thai chicken salad recipe. Feel free to substitute them with roasted, unsalted cashews or almonds.
For the Dressing:
Yogurt: You can use plain yogurt or Greek yogurt with at least 2% fat content. Avoid 0% yogurt as it will lack flavor and creaminess.
Mayo: I've made this Thai chicken salad recipe healthier by almost entirely omitting the mayo from the salad dressing, but just a couple of spoonfuls really help to pack in that extra rich creaminess. Omit it if you prefer, though.
Maple syrup: The slight sweetness balances the tang of the yogurt and vinegar well. Feel free to use sugar or any other sweetener.
Rice vinegar: Provides a wonderful tangy flavor not to be missed.
Lime: Please use fresh lime juice, not bottled lime juice, for the best flavor!
Seasonings: A combination of salt, sugar, and red pepper flakes.
What Chicken Can I Use?
The key to making this Thai chicken salad in 15 minutes is using leftover shredded chicken.
If you're running short on time then feel free to use a rotisserie chicken. However, they can be fairly packed with sodium so it's not usually my first choice.
Instead, I love to prepare some cooked chicken in advance, ready for a week's worth of meals. Best of all, you can prepare your chicken in one of several ways based on your schedule and preferred cooking method:
How to Make Thai Chicken Salad
Here is a quick overview how to make Thai chicken salad with just 15 minutes of prep time. Please find full recipe card below.
Prepare the salad dressing: In a small bowl, combine the yogurt, mayo, maple syrup, rice vinegar, lime juice, sugar, salt, and red pepper flakes. Whisk well to combine and then set aside
Assemble the salad: Prepare all of the ingredients. In a large bowl, combine all the remaining salad ingredients, add the dressing on top, and then toss the salad well to combine thoroughly.
Tips for Best Results
Here are my top tips for the best Thai chicken salad from the first try!
Keep the peanuts crunchy: If you plan on storing salad for longer than a day, the peanuts can soften over time and lose their crunch. To avoid this, store peanuts in airtight container in a cool dry place and add some before serving.
Salad dressing with thin out: Though the salad dressing might seem a little thick when you first add it to the salad, it will thin from the vegetable juices as Thai chicken salad sits.
Make dressing separately: Although photos show all salad ingredients in one bowl, it will be much easier to make dressing separately and incorporate with salad after.
Variations
This chopped Thai chicken salad is also super customizable. Here are a few ideas how to do that:
Add more vegetables: Veggies that work well in this Thai chicken salad are shredded carrots, sliced raw zucchini, de-seeded and chopped cucumber.
Add noodles: Cooked and chilled rice noodles work amazingly within Thai salads for a complete lunch.
Bump up the heat: With thinly sliced red chili peppers, grated fresh ginger or simply add more red pepper flakes to the salad dressing. Also fresh garlic would pair well.
Add fruit: Like green papaya or mango.
Chopped cooked hard boiled eggs to boost up the protein
Peanut dressing: I have peanut sauce recipe that will also work well as a peanut dressing for this Thai chicken salad.
A nut-free option: I understand that not everyone can enjoy nuts due to allergies. In that case, omit the peanuts and add toasted sesame seeds or pumpkin seeds instead to provide crunch.
What to Serve Thai Chicken Salad with?
This Thai chicken salad is already practically a full meal. To bulk it up slightly further, add in some cooked cold rice noodles and you have a complete meal.
I love to enjoy it with a slice of crusty bread or make chicken lettuce wraps with some salad scooped up in romaine lettuce leaves.
Another low calorie light dinner option is to serve salad with some spaghetti squash noodles.
How to Store It
Store any leftover Thai chicken salad in the refrigerator in an airtight container for up to 5 days. That's lunch sorted for a week!
However, vegetables in the salad will begin to lose their crunch as salad sits. So if you know you want to save some, feel free to dress portion of the salad now and store some separately from the dressing.
I don't recommend freezing Thai chicken salad as freezing can affect the texture of fresh crunchy veggies.
FAQs
Can you make Thai chicken salad ahead?
You sure can! If you want to prepare Thai chicken salad 2-3 days in advance, it's best to prepare the salad and dressing separately and then combine 20-30 minutes before serving (to marinate slightly) or even just before serving.
Can I eat That chicken salad warm?
This might sound a little weird (and some people won't be fans), but you could quickly stir fry Thai chicken salad ingredients with a little sesame oil in a wok for just a couple of minutes first. Then add the dressing and serve salad warm. The goal is to retain crunch in the vegetables, so just 2-3 minutes should be more than enough.
More Thai Inspired Recipes
More Salad Recipes to Try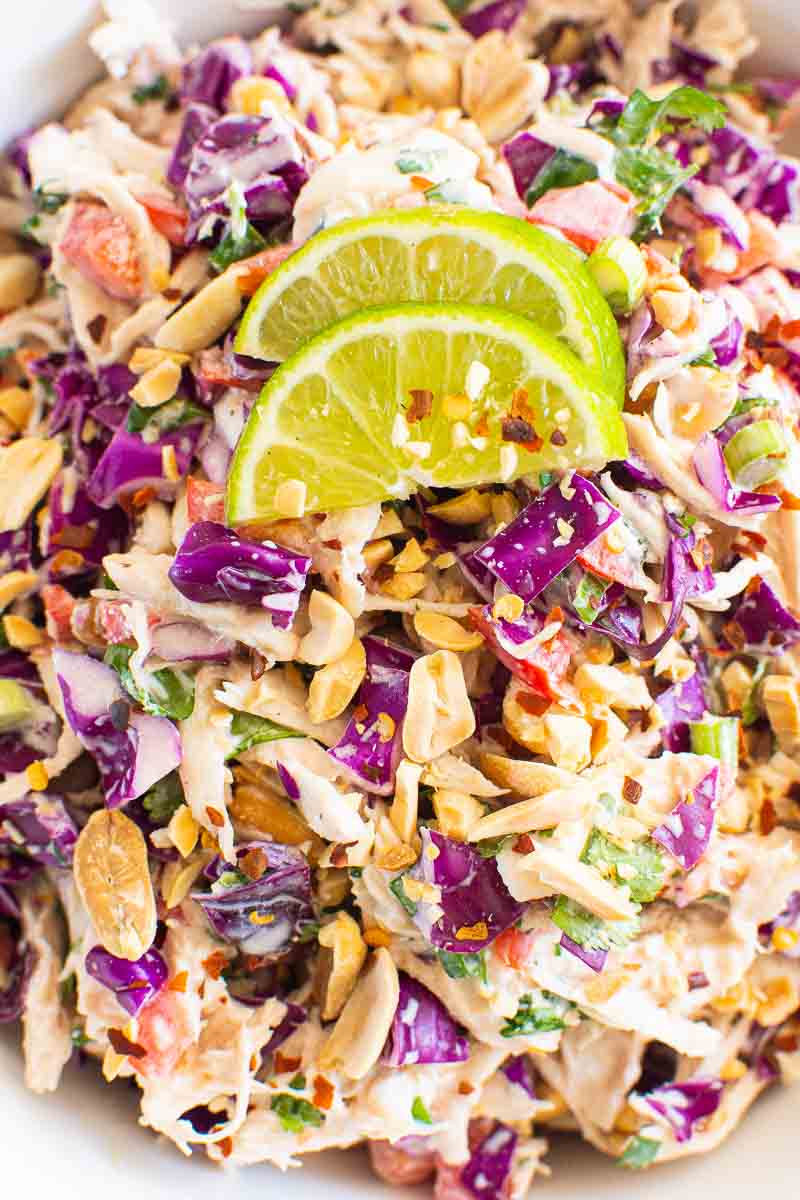 Thai Chicken Salad Recipe
This 15 minute Thai Chicken Salad recipe is bright and full of flavor with a creamy dressing and lots of fresh, crunchy veggies.
Ingredients
For the Salad:
2

chicken breasts

cooked & shredded

2

cups

red cabbage

chopped

1

red bell pepper

diced

1/2

cup

cilantro

finely chopped

1/4

cup

green onion

finely chopped

1/2

cup

peanuts

unsalted and roasted
Instructions
In a small bowl, combine yogurt, mayo, maple syrup, rice vinegar, lime juice, sugar, salt and red pepper flakes; whisk well to combine. Set aside.

In a large salad bowl, add chicken, cabbage, bell pepper, cilantro, green onion and peanuts. Add previously prepared dressing and mix salad with large spoon until well combined.

Serve cold on its own, with a slice of bread or in lettuce wraps.
Notes
Store: Refrigerate in an airtight container for up to 3 days. It is also best to add peanuts right before serving to help them retain the crunch.
How to cook chicken: Here is how to bake chicken breast, make Instant Pot chicken breast or use Instant Pot frozen whole chicken leftovers. Or use rotisserie chicken if short on time.
Make sure not to use 0% yogurt: It can be Greek or regular but look for 2% and higher. Non-fat yogurt lacks flavor and creaminess.
A bit of mayo: Is optional and depends on personal preference to "seal the deal" with creamy chicken salad.
Recipe updated March 2021. Therefore, older video will reflect a bit different dressing ingredients.
Nutrition
Calories:
163
kcal
|
Carbohydrates:
9
g
|
Protein:
16
g
|
Fat:
7
g
|
Saturated Fat:
2
g
|
Cholesterol:
40
mg
|
Sodium:
310
mg
|
Fiber:
2
g
|
Sugar:
6
g