Learn How to Hard Boil Eggs that are easy to peel with firm whites and bright yellow yolk. This simple method will give you perfect hard boiled eggs every time!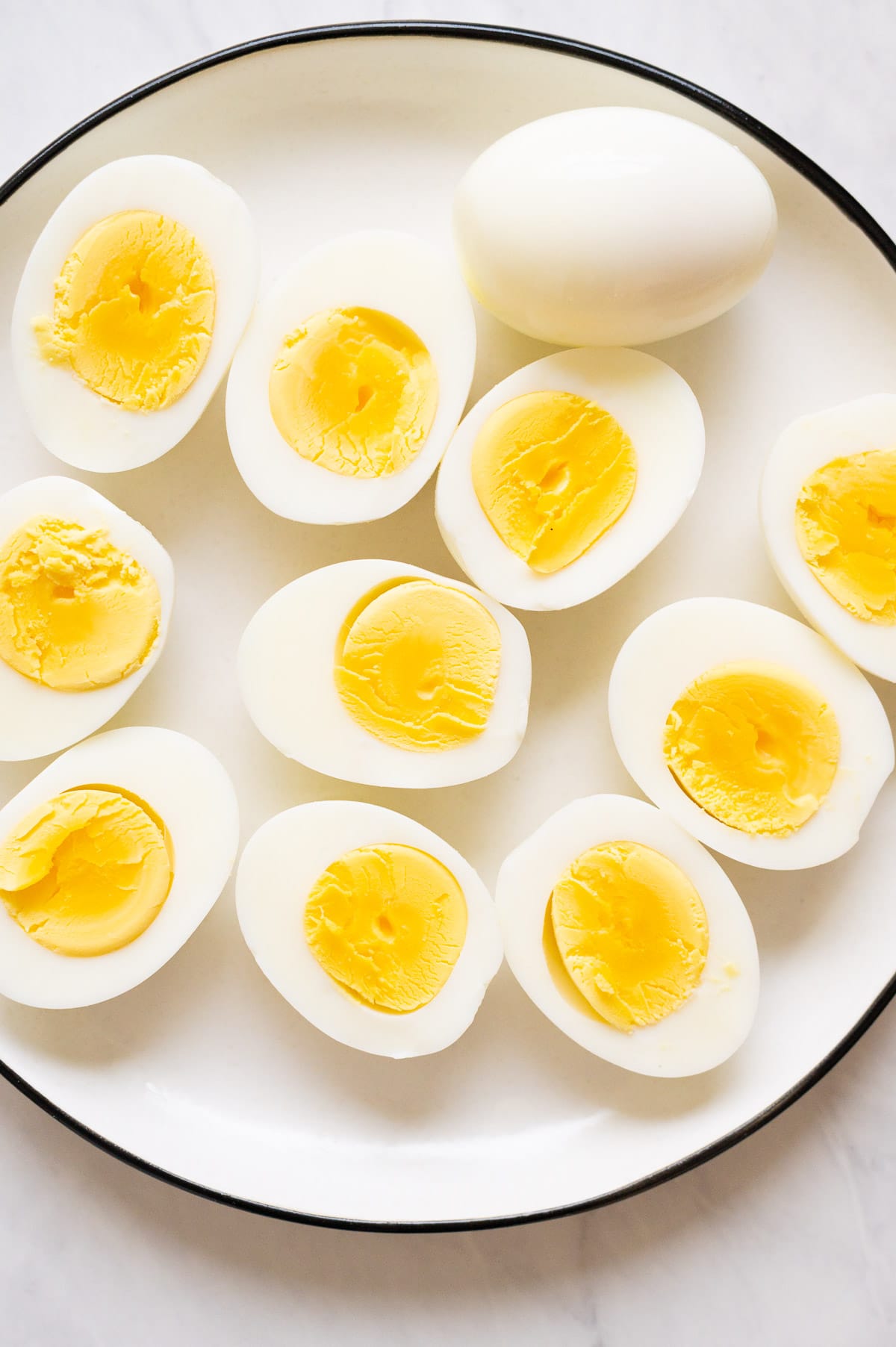 Hard boiled eggs sprinkled with salt and pepper make a perfect snack or delicious deviled eggs and egg salad. These are my favorite ways to use them!
Today I am going to show you how to hard boil eggs on the stove however I have an honest confession to make. I prefer to make hard boiled eggs in Instant Pot because they are cooked perfectly and are easy to peel guaranteed.
My least favorite method is to cook hard boiled eggs in air fryer because it just takes so long but is an easy and convenient cooking method.
You pick how you want to make your hard boiled eggs. I just think everyone needs to have hard boiled eggs recipe in their back pocket come Easter or not.
How to Make Hard Boiled Eggs
Here's how to cook hard boiled eggs in less than 30 minutes. Quick, easy and ready to add to your favorite egg recipes.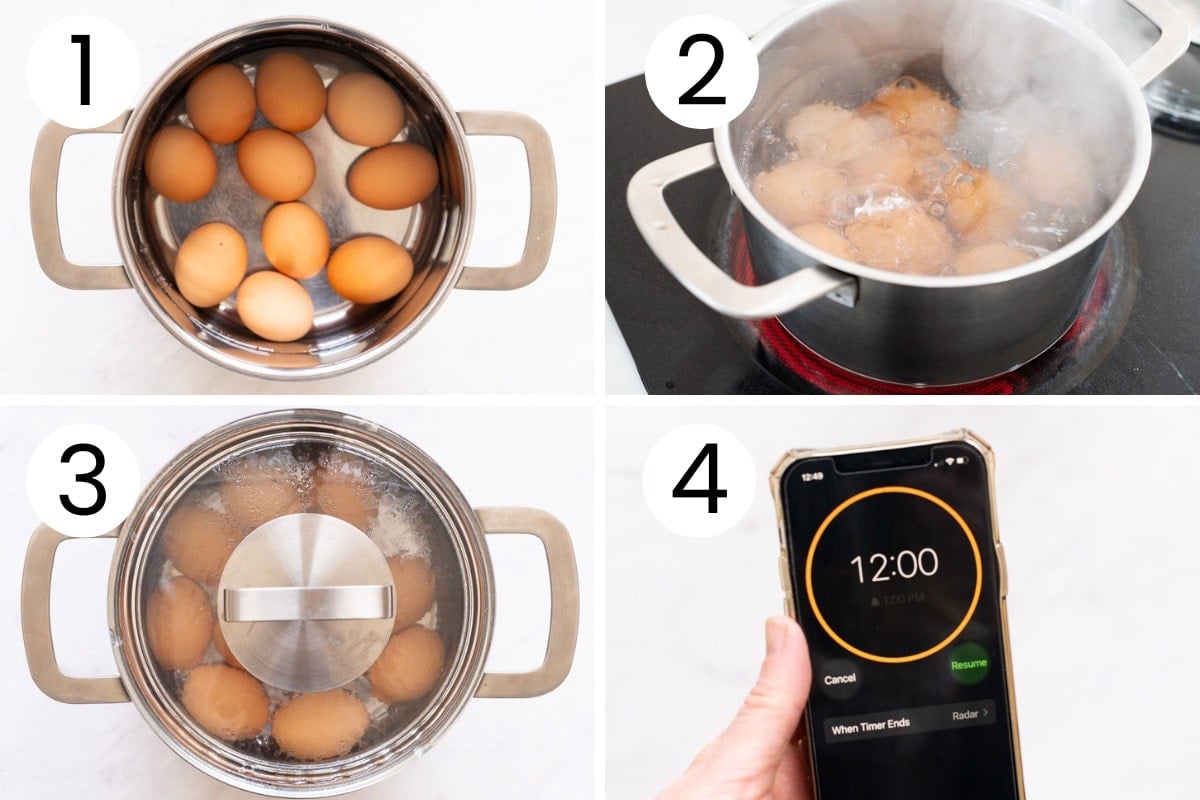 Add eggs to the pot: Place eggs in a medium pot making sure they are in a single layer. Then add cold water filling 1 inch over the surface of the eggs.
Bring to a boil: Cover with the lid and bring to a boil over high heat.
Turn off heat: Once boiling, turn off heat. Keep the lid on and pot on the burner.
Set timer: Let the eggs sit for about 12 minutes. Cooking time may vary, see notes and time chart below.
Transfer to an ice bath: Transfer cooked eggs to a large bowl of ice water and cool for 10 minutes.
Peel the hard boiled eggs: Crack the shell by gently tapping the large round end on a hard surface then peel.
And there you have it! A foolproof method how to hard boil eggs.
Recipe Tip
There are many theories on making eggs easier to peel like adding baking soda, salt or vinegar to the boiling water. Only thing that works for me for easy peel hard boiled eggs is make sure to let them sit in the ice bath long enough.
How Long to Hard Boil Eggs?
How long to cook hard boiled eggs on stove truly depends on a number of factors. For example type of cookware, size and temperature of the eggs, type of stovetop and altitude.
I hard boiled my eggs for 12 minutes and it wasn't enough, I think because of my sea level. Then I cooked for another 3-4 minutes.
Here's a guideline to use as a starting point but you will need to experiment in order to pin point the exact time needed for you.
| Cook Time | Egg Yolk Texture |
| --- | --- |
| 6 minutes | Creamy yolk that's still a tad runny |
| 8 minutes | Medium yolk that's half set with a moist center |
| 10 minutes | Yolk is firm but still soft in the center |
| 12 minutes | Solid, bright yellow yolk |
| 14 minutes | Firm light yellow yolk but not overcooked |
Recipe Tip
After 6-8 minutes you'll have perfect soft boiled eggs to serve in an egg cup or on a toast. You can also use this Instant Pot poached eggs recipe.
Tips to Prevent Hard Boiled Eggs from Cracking
Now that you know how to make hard boiled eggs, here are some tried and true tips to prevent them from cracking.
Don't let eggs boil vigorously: Once the water comes to a rolling boil turn off heat right away. If the water is bubbling vigorously, the eggs will likely bounce around and crack.
Bring eggs to room temperature: Sometimes if you start with cold eggs right from the fridge the shell will crack from the shock of the temperature change.
Don't overcrowd the pot: Lay your eggs in a single layer, they should not be stacked or touching. A crowded pot can also change the cook time.
Try different brand: If your eggs still crack, I recommend trying a different brand. Sometimes the egg shell has a different thickness.
If your raw egg is cracked: Add a bit of white vinegar to the water before cooking. It helps the egg white to stay in the shell and prevents discoloration.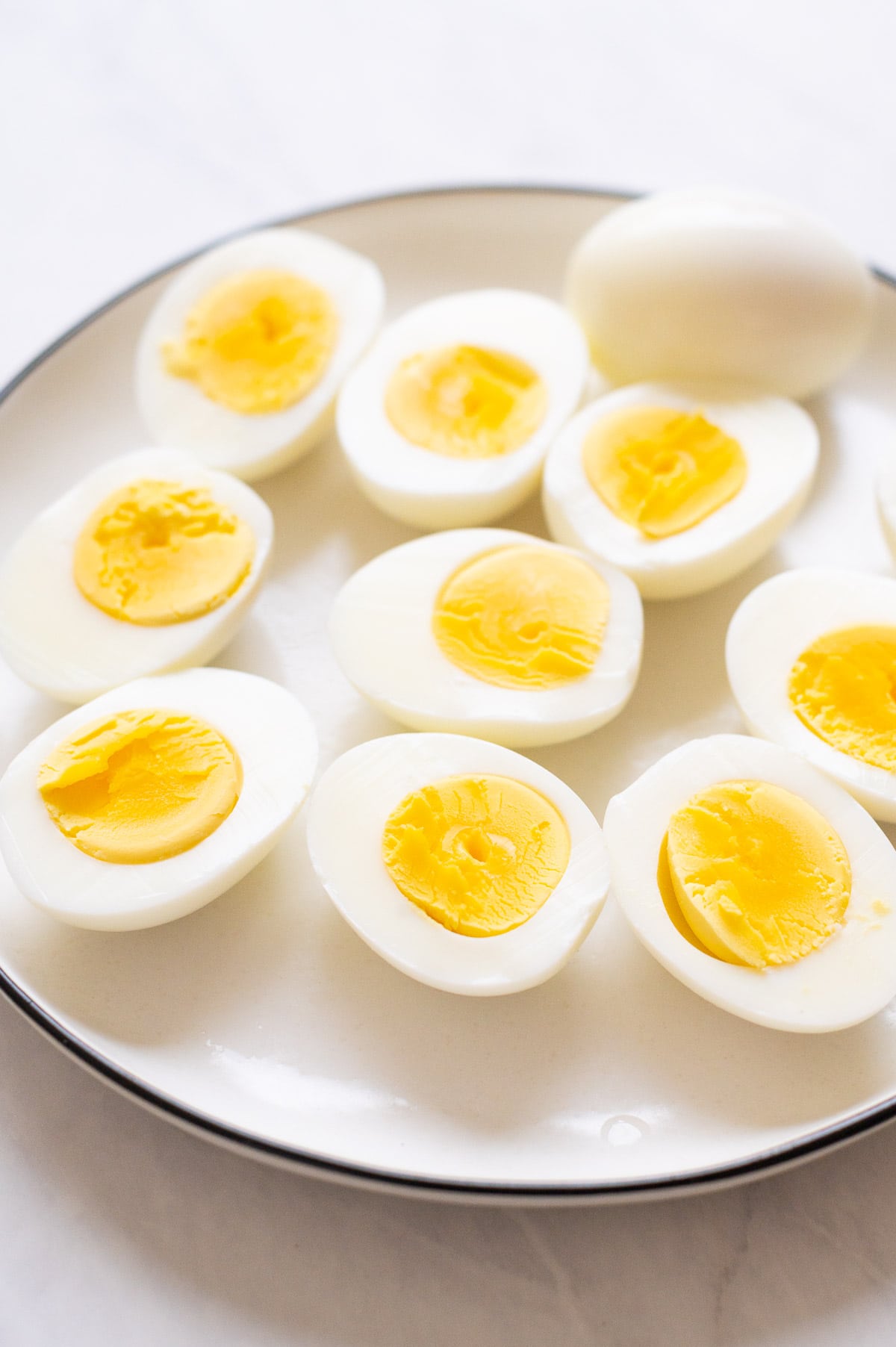 Tips for Peeling Hard Boiled Eggs
There are lots of tips on how to make hard boiled eggs easy to peel. Here are my go-to tricks on how to peel hard boiled eggs perfectly.
Use older eggs: Older eggs peel easier than fresh eggs when using this cooking method.
Tap on hard surface: Remove an egg from the ice bath and tap on the countertop, then gently roll to crack all sides before peeling.
Don't crack an egg too much: I only tap 2-3 times because it's easier to peel larger pieces of shell.
Peel eggs under running water: The simplest way to peel perfect hard boiled eggs is to separate the membrane from the egg. Gently squeeze the egg under cold running water. Once you see the membrane pull away, run water in that area and the shell will peel away easily.
Start at the pocket: There's a small air pocket in between the shell and the egg, usually at the larger round end that's opposite the pointy end. I find that's the best place to crack for easy peel eggs.
How Long Do Hard Boiled Eggs Last?
Hard boiled eggs are one of my favorite protein-packed snacks. They can be stored peeled or unpeeled depending on your personal preference, either way makes it quick and easy to grab and go or add into your meals.
Fresh hard boiled eggs at room temperature will last for up to 2 hours.
Store peeled cooked eggs in an airtight container and refrigerate for up to 3 days. Unpeeled eggs last longer and can be stored uncovered in the refrigerator for up to 7 days.
Recipes Using Them
There are many ways to get creative with hard boiled eggs!
Besides classics like avocado deviled eggs and egg salad sandwiches, here are some of our favorite egg recipes we turn to again and again.
FAQs
When hard boiled eggs are done?
There's no easy way to tell when hard boiled eggs are ready based on how the egg looks. Follow this hard boiled egg recipe and adjust the time after the first try if needed.
How do I avoid a green ring?
Don't boil the eggs too hard for too long. Once the water comes to a rolling boil turn the burner off right away and don't let them simmer for more than 14 minutes.
How do you make hard boiled eggs easy to peel?
Submerge the hot eggs in an ice bath. The rapid cooling causes the egg whites to contract and pull away from the shell making it much easier to peel.
Can hard boiled eggs be frozen?
No. When cooked eggs are frozen the egg whites become rubbery when thawed. You can use the egg whites and freeze just the egg yolks.
How to Make Hard Boiled Eggs
Learn How to Hard Boil Eggs that are easy to peel with firm whites and bright yellow yolk. Perfect hard boiled eggs every time!
Instructions
In a medium pot, add eggs and enough cold water to cover them by 1 inch.

Cover pot with a lid and bring water to a boil on high heat.

Turn off heat and leave the pot covered with a lid on the burner for 12 minutes.*

After transfer cooked eggs into an ice bath for 10 minutes.

To peel the eggs, tap a few times on hard surface and remove the shell.
Notes
Store: Refrigerate peeled eggs in a container with a lid for up to 3 days. Unpeeled eggs can be refrigerated uncovered for up to a week.
Freeze: Cooked eggs do not freeze well. The egg whites become rubbery. You can always use up the cooked eggs whites first and freeze the egg yolks.
*Cooking time may vary due to the cookware, size and temperature of the eggs, stovetop and altitude. Adjust after the first try.
Nutrition
Serving:
1
egg
|
Calories:
63
kcal
|
Carbohydrates:
1
g
|
Protein:
6
g
|
Fat:
4
g
|
Saturated Fat:
1
g
|
Cholesterol:
164
mg
|
Sodium:
74
mg
|
Sugar:
1
g